Sentimental Education – Poetry Course and Video Project 2021
---
Sentimental Education – Poetry Course and Video Project 2021
"Sentimental Education is a poetry course born out of the need to feel some certainty in the time of the pandemic. The online space of the course is a place for us to meet and share our writing process. Selected* participants will collaborate on poetry videos which will be presented at the literature festivals Prima Vista and Writing on the Wall's WoWFest Programme,* in May 2021. Sirel Heinloo, the instructor and project manager of the course, has invited three mentors to help her impart the mysteries of the spoken word and poetry: The lauded British spoken word and slam poet Joelle Taylor, whose latest poetry collection "CUNTO" explores the gay scene in the 1990's London; the British rapper and poet Adam Kammerling, whose recent debut book "Seder" has been named a finalist for the National Jewish Book Awards, and the Estonian poet Tõnis Vilu, whose latest collection inspired the name of this course. Tõnis Vilu's work will also be informing the subject matter of the course, as his poetry collections "Tundekasvatus. Jaapani surmaluuletused" (A Sentimental Education. Death Poems from Japan, 2020) "Libavere" (Awryville, 2018 ) and "Kink psühholoogile" (A Gift to my Therapist, 2016) help us face our mental states and push all the right buttons to turn our attention to the factors influencing our emotional welfare.
This course is for you if you are a beginner in writing and desire an international environment to foster growth as well as exciting new ways to present your poetry to the world. You are encouraged to set a personal goal for yourself to work towards with our help during the course. The goal could be writing a poem or a poetry cycle fit for publishing, improving your performing skills, getting comfortable with the genre of video poetry or anything else you set out to achieve. 
This course is also for you if you are a beginner in writing, but feel shy about publishing and setting other ambitious goals just yet, but would like to simply investigate your inner life and take lessons in emotional welfare in the company of other fledgling poets. You might still find yourself writing publishable poems, try out performing and participate eagerly in brainstorming the concepts for the poetry videos. But you can also just listen in and participate at your own pace.
* "Selected" means that not everybody has to publish themselves in the video, yet everyone who wishes will be given a chance to collaborate in some parts or details. 
* The course is inspired by "The Writer's Bloc" programme in Liverpool created by Writing on the Wall organisation. (https://www.writingonthewall.org.uk/the-writers-bloc.html)
This course is for you if:
you are willing to come face to face with your poetry and emotions at least twice a month in a supportive international environment;

you need encouragement to write your next poem or poetry cycle;

you want to learn from experienced performers and poets, Joelle Taylor and Adam Kammerling;

you would like to exchange experiences with fledgling poets from other countries and peek into their everyday lives;

you would like to reflect on Tõnis Vilu's, Joelle Taylor's and Adam Kammerling's poetry together;

you are happy to present your poetry in video format or participate in creating poetry videos;

you would like the opportunity to present your poetry in the videos published on the web at the literary festivals Prima Vista (Tartu) and Writing on the Wall's WoWFest programme (Liverpool).
Who are the mentors of "Sentimental Education"?
Tõnis Vilu (1988) has emerged as one of the most important poets of the younger generation of the Estonian poetry scene. He is the author of seven poetry collections, each of which has presented a new poetic language and a novel approach to the main topics that have persisted throughout his work: mental health and the complicated interrelations of the individual and their surroundings, social as well as natural. In 2017 he was awarded the Gustav Suits Poetry Prize for his collection "A Gift to my Therapist". 
Sirel Heinloo (1989) is the leading Estonian poetry slam organizer since autumn 2017 and a poet whose poetry has been published in literary magazines "Värske Rõhk", "Looming", "Vikerkaar" and "Contemporary Dialogues". She has participated in the international project "Drop the Mic" for performing artists (Nordic Baltic Poetry Network in 2018–2020), performing in Reykjavík, Mannheim, Heidelberg, Copenhagen and Kraków, taught a creative writing and spoken word course at Tartu University jointly with Marc Kelly Smith in 2018 and headed the Estonian branch of the the poetry and spoken word project "Borderlines" (2019) curated by Joelle Taylor. Sirel is also a PhD student in Estonian literature and publishes book reviews in cultural newspapers and magazines.
Sirel loves poetry and dance in all their forms and is now excited to experiment with international collaboration safely through the web and video but with all the fun intact.
www.lavaluule.ee; https://www.facebook.com/tarslammpoetryslam/
Adam Kammerling is an UK National Slam Winning poet, a MC and a theatre maker. He performs all over the country and facilitates rap and poetry workshops for young people and adults.
His first book, Seder (Outspoken Press, 2020), explores his Jewish heritage and discovers how generational trauma lives in the body and the cathartic potential that exists in contemporary spaces. It has been nominated as the finalist for the National Jewish Book Award. His recent work also includes Shall We Take This Outside, a three headed spoken- word/dance theatre piece that featured at Last Word Festival and toured Great Britain in 2019.
He has released a number of music projects, including the Papaya EP which was featured as a Resident Adviser staff picks, and the Look Up split single, released on Monde Green records.
He has performed in festivals countrywide and gigged in New York, Poland, Finland, Ireland and Tartu! He has been published in arts magazine, New York Niceties, and in the UK in the Morning Star and in Rhyming Thunder, Burning Eye's debut poetry anthology.
Joelle Taylor is an award-winning poet, playwright and author who has recently completed touring Europe, Australia, Brazil and South East Asia with her latest collection Songs My Enemy Taught Me. She is widely anthologised, the author of 3 full poetry collections and 3 plays and is currently completing her debut book of short stories The Night Alphabet, with support from the Arts Council. Her new collection CUNTO & Other Poems will be published in June 2021 by Westbourne Press. She has featured on The Verb (R3), Power Lines (R4), Poetry Please (Radio 4) Educating the East End (ITV), and We Belong Here (BBC). She founded SLAMbassadors, the UK's national youth slam championships, for the Poetry Society in 2001 and was its Artistic Director and National Coach until 2018. Her work is taught as part of the OCR GCSE syllabus, and she has received a Change Maker Award from the Southbank Centre in recognition of the effect SLAMbassadors had on British culture. She has recently been commissioned to develop her spoken word theatre show Butterfly Fist to tour throughout 2021/2022 and is the founder and Artistic Director of a new inter-European spoken word project 'Borderlines'. She is a Fellow of the RSA and was longlisted for the Jerwood Compton Poetry Fellowship 2017 and 2019. Joelle is the host and co-curator of Out-Spoken, the UK's Centre's premier poetry and music club, currently resident at the Southbank Centre Purcell Room. A Radio 4 documentary about her art and life as a masculine woman, Butch, was broadcast in May 2020. 
Schedule:
(GMT: +2:00)
18 FEB, THU
19:30 – 20:30 – Poetry night and conversation with Joelle Taylor and Adam Kammerling (Zoom + FB live) Watch here on Facebook!
2 MAR, TUE
18:00 – 19:30 – Theme night / workshop with Adam Kammerling: live performing and performing for video (Zoom + FB live)
14 MAR, SUN
15:00 – 16:30 – First International Creative Webinar (Sirel, Joelle, Adam) – Zoom
28 MAR, SUN
15:00 – 16:30 – International Creative Webinar (Sirel, Adam) – Zoom
6 APR, TUE
18:00 – 19:30 – Theme night / workshop with Joelle Taylor: live performing and performing for video (Zoom + FB live)
18 APR, SUN
15:00 – 16:30 – International Creative Webinar (Sirel, Joelle, Adam) – Zoom
25 APR, SUN
15:00 – 16:30 – International Creative Webinar (Sirel, Joelle, Adam) – Zoom
7 MAY, FRI (preliminary date)
Presentation of Videos and Reflection (Zoom + FB + Prima Vista + WoW)
The price of the course is 30 GBP (35 EUR) that includes:

International Creative Webinars (with the possibility to watch the sessions later if you missed some)

Joelle Taylor's poetry collection "Songs My Enemy Taught Me"

Adam Kammerling's poetry collection "Seder"

English translations of Tõnis Vilu's poetry

Translating your poetry into Estonian

Editing your video clip

Extra group sessions if we decide so
If you have any additional questions write tarslamm@gmail.com.
Fill in the registration form here! (There you can also specify your needs.)
The project is also supported by Estonian Writer's Union, City of Tartu and Cultural Endowment of Estonia.
Kalender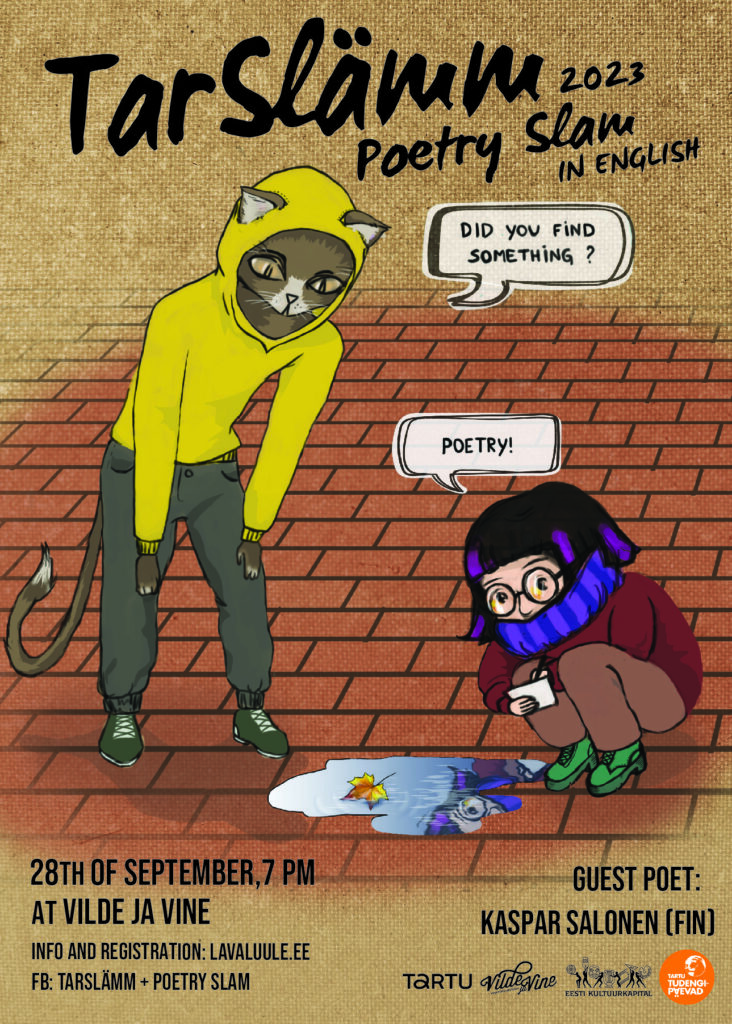 Kuupäev: 28th of September 2023
Kellaaeg: 7 PM
Koht: Vilde ja Vine, Tartu
Vaata lähemalt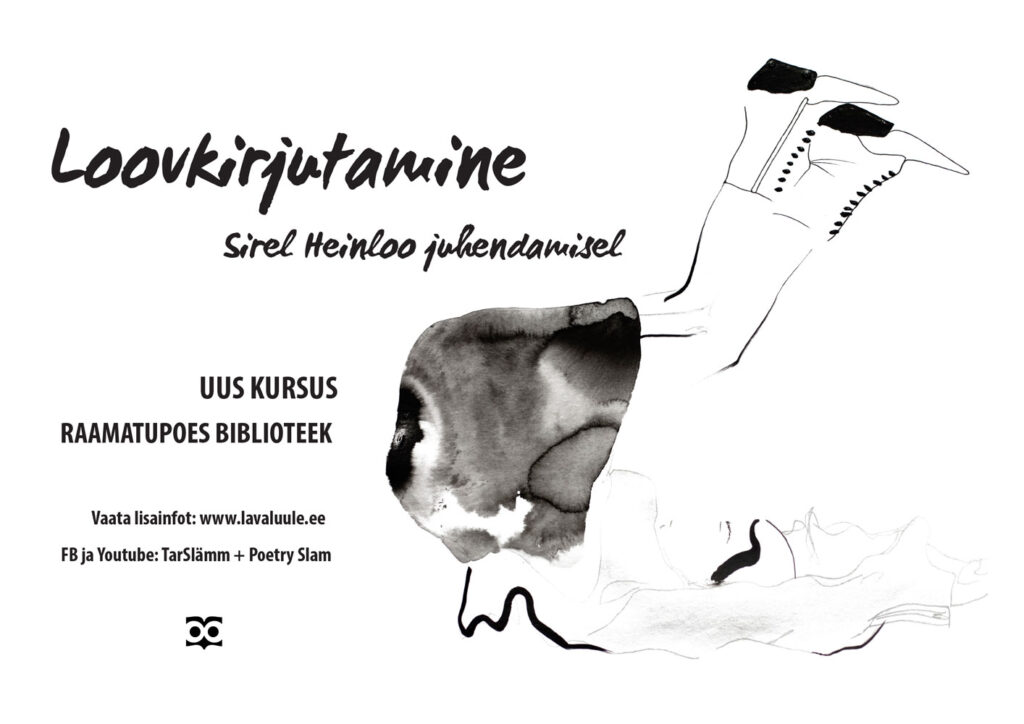 Kuupäev: 31. august 2023
Kellaaeg: 18:30-20:15
Koht: Raamatupood Biblioteek Aparaaditehases ja veebis
Vaata lähemalt